Aloha~
So, like some people already know, I'm starting this blog to keep track of my adventures in Hawai'i!..and more. Because ya know… I'm asian so it's a MUST that I do tons of make-up stuff also and put mindless cam whoring in here. :D
It took me a good 3 days to come up with a blog name…and I don't think I'll ever be happy with one. Anyways~ on to the bloggy..blogness…>>
(Here's a mindless cam-whore picture to start it off!)
Yesterday, 4/21/11 at Sephora there was a signing by Yuko Yamaguchi aka Kitty Mama! The designer of Hello kitty! In order to meet her you had to purchase a total amount of $50 (before tax) and then you would get a wrist band to prove that you were one of the first 125 people to make a purchase. The signing was at 6 pm but you had to buy the items between..I believe it said 9-5?
Anywho~ I got there around 12 and ended up buying the super cute 5 piece brush set a long with the hello kitty lipgloss in Cherry~ (Reviews to come later? Since that's what asians do :p) After I purchased my items, I walked to the front just in time to see Hello kitty and 4 Lolitas! They were so adorable and super sweet~ Though it made me kinda sad that I wasn't able to bring one of my dresses to wear! :3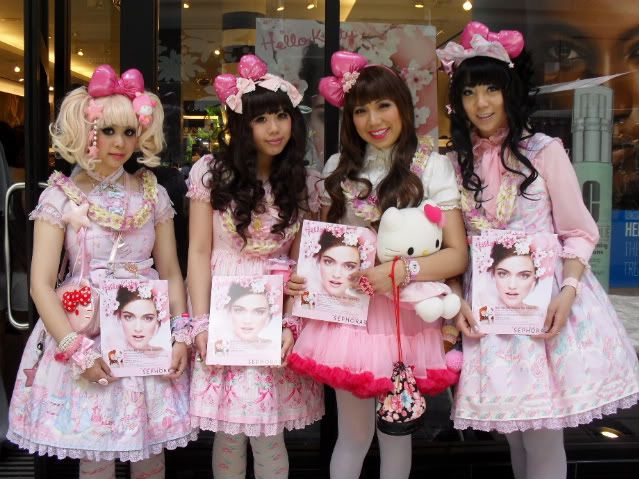 Since the signing wasn't until 6 we had to walk around for 6 hours. So, during that time we went to Victorias secret since I had a coupon (yeah!) for some free stuff. xDDAnd this VS...was..AMAZING! They had THE cutest furniture in it! Unfortunately, they wouldn't let me get pictures of the furniture that was inside the fitting room (They had this super soft pink circle bed in the middle!)...but I did get a picture on the chair near the door! I WANT IT!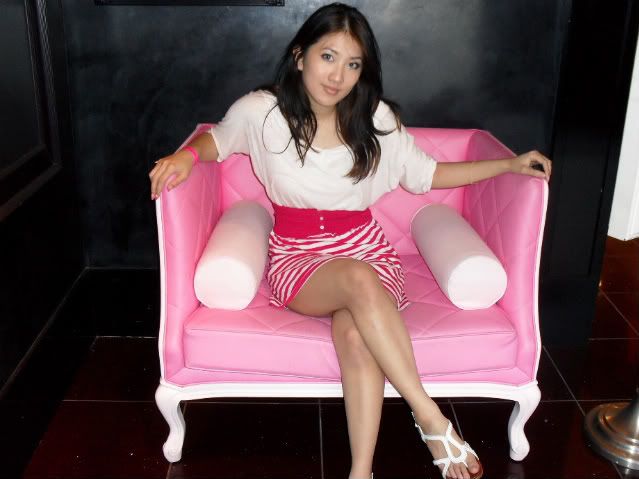 Ok! So after killing 5 and a half hours we walked back and there was already a line! (this was only half the line since the other half was already brought inside)
This is where I found out that I was supposed to get a free chubby bunny bow! I ended up calling the security guard over and talked to him so he ended up getting one of the workers from Sephora to give me one! Yayeeeee happiness~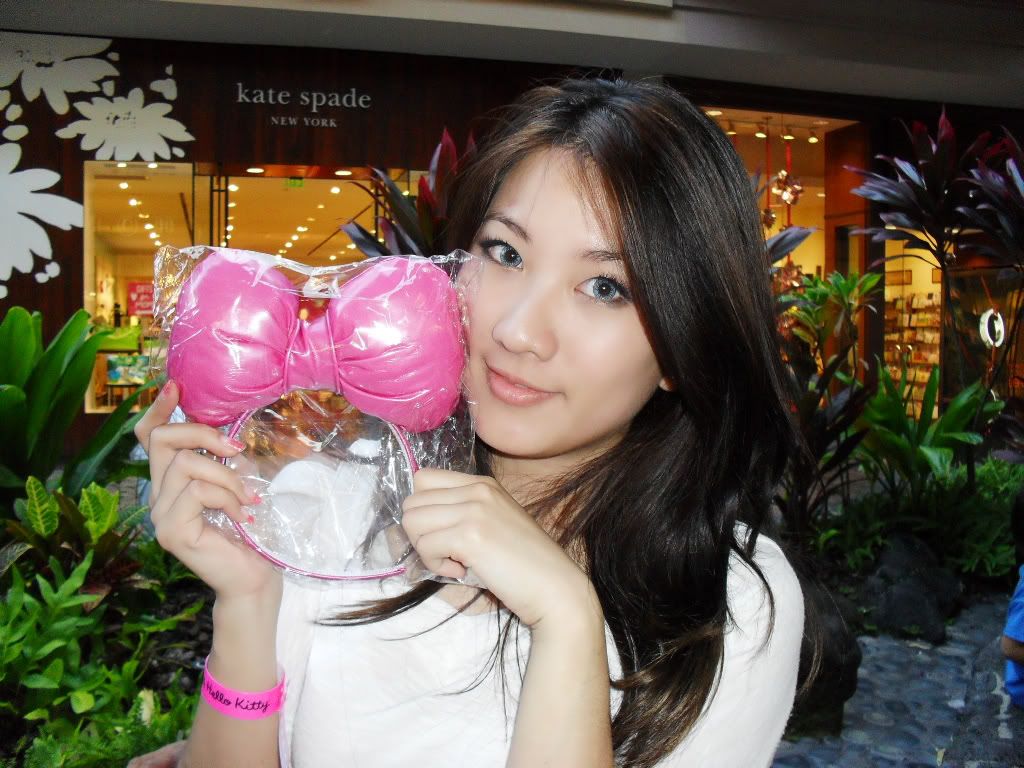 I waited in line for a good hour and during that time, a little girl and the lolis were passing out yan yans and ramune with Hello kitty on it! Finally, we were let insides and one of the employees came over to us to write our names down. Guess what?! Her name was Miki too!
Two Mikis!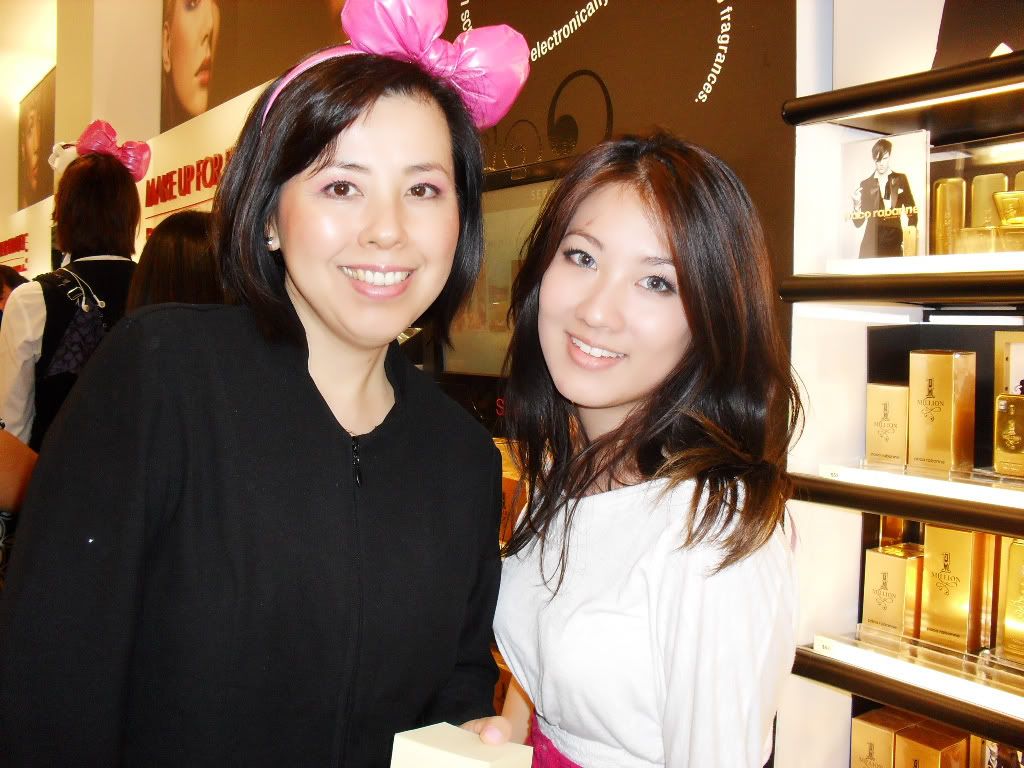 Getting closerrrrr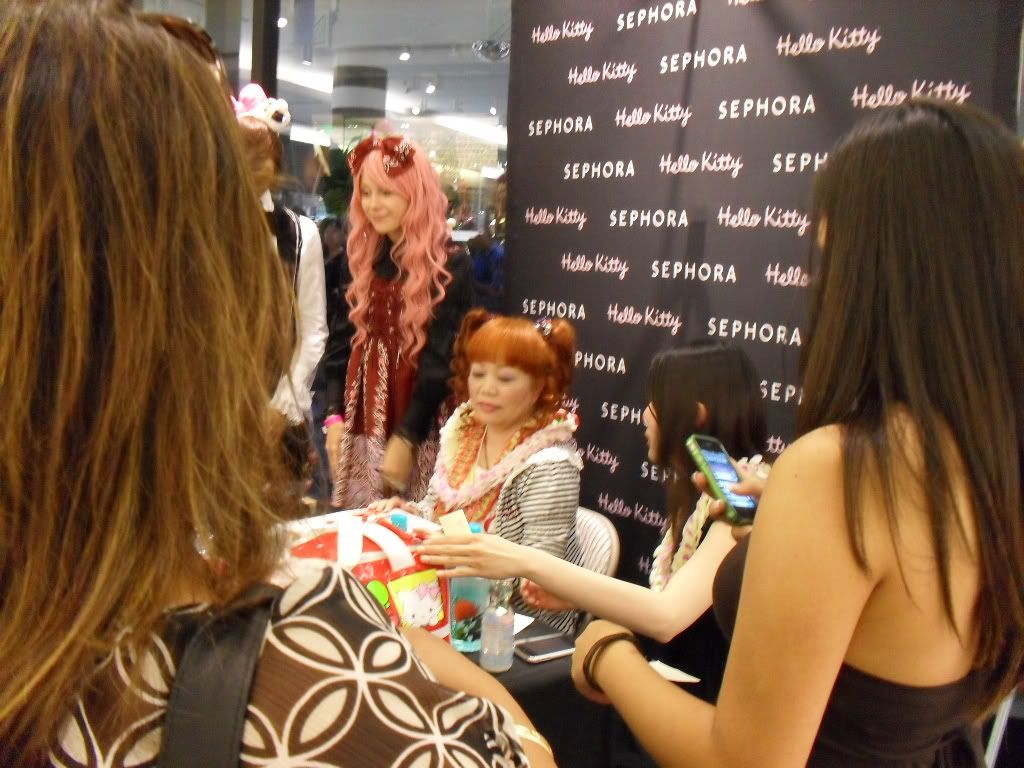 andddd
YAYEEE!!! KITTY MAMA!!!
SUCCESS!
And to close this out~
My goodies (well..most of them)